Special Episodes of Alex & Co. are a set of 4 Special Episodes that aired after Season 3. They mark the end of the series.[1] These episodes also introduce Penny and Camilla, main characters of the Alex & Co. spin-off Penny on M.A.R.S.
Special Episodes aired in Italy from June 26, 2017 to June 29, 2017.
Plot
Alex and Nicole got back together. Alex & Co. are invited to the special edition of "The Talent World", a show in which the contestants are the winners of the previous seasons of The Talent world-wide. Alex and his friends, however, decide to reject the invitation to focus on the music projects of their record company. Nicole, in fact, has a new big dream: to get her new lyrics sung by Bakìa, the greatest pop star of the moment.
Alex, Nicole, Emma, ​​Ray and Rebecca go to Matt's villa for his birthday. During the party, Nicole discovers that next to Matt's house, Bakìa is shooting a new music video. Nicole tries to get closer to the popstar, but is the victim of a serious accident. Thanks to the help of an unknown girl, Penny, Nicole is safe, but her savior mysteriously disappeared. Alex and his friends are desperate: Nicole is in a coma and it is unknown if or when she will resume.[2]
Cast
Main Cast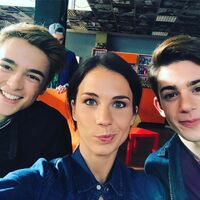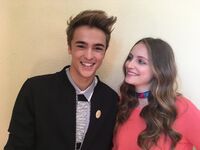 Recurring Cast
Yvonne Giovanello as Sonia, Matt's mother
Lucrezia Bertini as Soraya, Matt's sister
Massimiliano Varrese as Arturo, Matt's father
Michele Bottini as James
Eleonora Haerens as Ginevra Blanche di Franconia
Episodes
Songs
Italian dub credits
Trivia
These episodes are the final ones of Alex & Co.
These episodes include four new characters: Penny Mendez, Camilla Young, Bakìa and Freddy Wolf.
These episodes have the same intro of Season 3 second part, but Clio is replaced by Matt and the new character Penny is included.
Some TV guides mistakenly consider these episodes as Season 3 episodes.
The cast had the first table read on April 14, 2017.[3]
Filming for the special episodes began on May 2, 2017[4] and finished on May 25, 2017. On May 20, 2017 the cast shot promotional videos and had a photo shoot.
In these episodes Rick De Ponte is played by Riccardo Festa, who played the character in Season 1, however Sara De Ponte is played by Sara D'Amario, who played Nicole's mother in Come diventare grandi nonostante i genitori.
In these episodes Matt's house is shown. These scenes were shot on May 16 and 17, 2017 at the Villa Borromeo.
The hotel of The Talent, where Alex and Penny are staying in these episodes, is actually the Hotel Principe di Savoia in Milan, Italy.
These episodes were initially scheduled for June 23 and 30, 2017, but they were later changed to air from June 26 to June 29, 2017. This was probably made to evenly distribute the episodes along the week.
Unlike previous seasons, Special Episodes took more time to air out of Italy.
Backstage gallery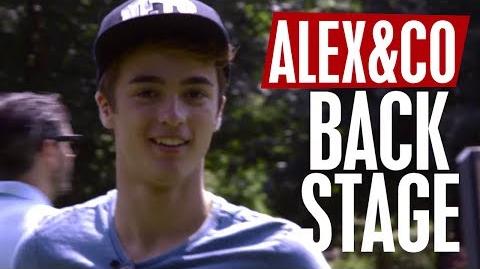 References