Episode 36 is the fifth episode of Season 3 of Alex & Co. and the 36th episode overall. It premiered in Italy on October 8, 2016.
Plot
On the Internet appears a video of a mysterious singer who everyone loves, Nobody. Alex calls the guys to tell them a secret, but surprisingly appears Emma who returned from the United States.
Summary
TBA
Cast
Main Cast
Recurring Cast
Guest Cast
Songs Featured
Videoselfies
| | | |
| --- | --- | --- |
| | | |
| | | |
Trivia
After showing his video, Nobody gives a little speech, highlighting some of his sentences by showing them on screeen. Since they are written in Italian, the screen was left empty in Hungary, Czech Republic, Bulgaria, Romania and Poland.
This episode is titled "The mysterious singer" in France.
Goofs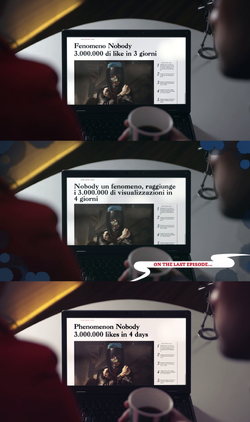 After watching Nobody's music video I Am Nobody, Diana says "3 millions of views in only 4 days" while on her computer screen we can see "Nobody phenomenon, 3,000,000 of likes in 3 days" in Italian. Later, on episode 37 recap, Diana repeats the same sentence whereas on her computer we can see "The Nobody phenomenon reaches 3,000,000 of views in 4 days".

In Hungary, Czech Republic, Bulgaria, Romania and Poland, the screen was blurred to hide the Italian text in the episode but not in the recap, even the goof wasn't solved.
The Dutch dub solved it by saying "3 days" instead.
In France, the screen shows "Phenomenon Nobody 3.000.000 likes in 4 days" written in English. Here there is the mistake of separating numbers with a dot instead of a comma.

In the text-less version of Nobody's speech, there is an editing mistake just after he says "free to sing". It cuts out Diana moving her hand to her chin again, then it cuts out to the computer screen and suddenly cuts out again to Diana touching her neck. The right version keeps showing the computer when Nobody says "free to sing, free to dream" and then cuts out to Diana touching her neck.
Gallery